Tree and Shrub Pest Control Opa Locka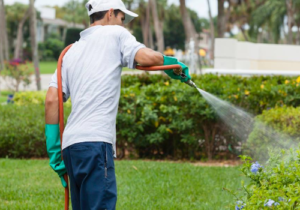 When it comes to Tree and Shrub Pest Control Opa Locka, trust the professionals at Sharp Shot Pest Control.  Owners Eddie and Bonnie Morales have dedicated their life to the pest control profession, serving the South Florida community for over two decades.  They have built their business using best practices and personalized service to expand the Sharp Shot difference throughout South Florida.
Experts in the industry, Sharp Shot Pest Control provides both Residential and Commercial pest control services as well as Lawn Pest Control, an important service in Florida.  Our Termite Treatment is safe for all animals as we were one of the original pioneers in our technique.
Tree and Shrub Pest Control Opa Locka

We find insects fascinating and have a natural passion in the field of pest control.  This passion coupled with our extensive training and best practices means superior service to our ever growing client base.
We pride ourselves in the fact that our clients refer others to us which is the best advertising you could ask for.
Residential Pest Control – From a one time emergency to scheduled prevention and maintenance, using professional Pest Control experts ensures insect control.
Commercial Pest Control – Florida businesses especially need a routine pest control schedule.
Lawn Pest Control – Don't stop at treating just the inside or outer perimeter, using lawn pest control adds extra strength to the exiting services so you can enjoy your lawn pest free.
Termite Treatment – Sharp Shot Pest Control is a pioneer in tentless termite treatment in Miami and other South Florida area communities. Our effective approach to termite pest control ensures that your home or building remains termite-free after using our innovative tentless termite treatment service. And know that our tentless termite treatment is safe for your dogs, cats, birds, and other pets.
Pest Remediation – pest infestations need to be handled as soon as possible to cut off the overtake of your home, business or lawn.
Pest Prevention – our technicians go over all areas of concern and work a plan that is personalized to your specific needs.
Call Today!
Tree and Shrub Pest Control Opa Locka